Virtual 19 May 2021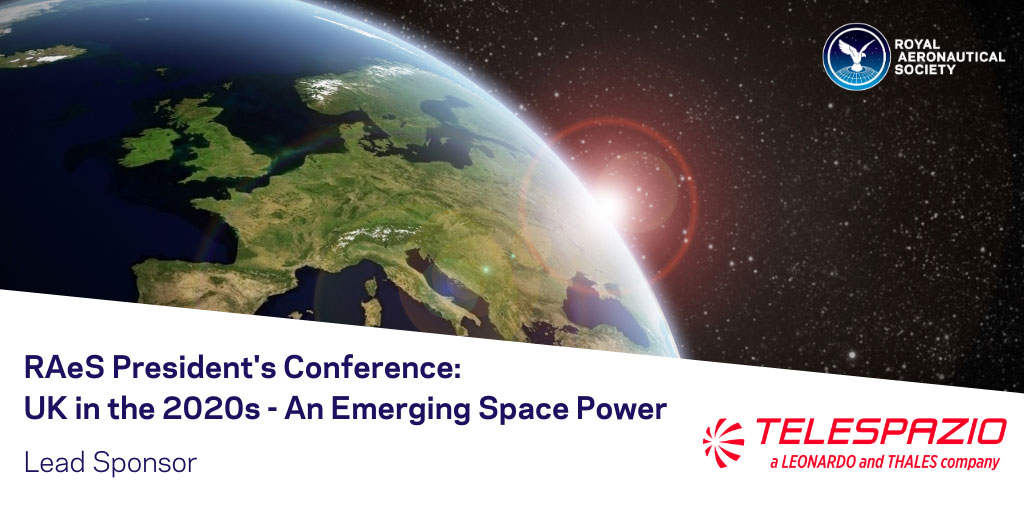 Location: Online
Date and time: 19-20 May 2021
The 2021 RAeS President's Conference focused on current and evolving market trends in the global space sector, how these will shape the international business ecosystem in the 2020's, and in what areas the UK can take commercial leadership. It featured an impressive panel of speakers from the US, Europe, Canada, Australia, New Zealand, Japan, China, UK and the UAE, spanning government, industry, defence and academia.
Day 1 of the conference focused on international partnerships and growth, while day 2 will focued on national strategy, technology and skills.
Telespazio UK was delighted to be sponsoring this RAeS conference, and contributed to the programme in several ways, including:
Telespazio UK CEO, Mark Hewer welcoming delegates on each day

Telespazio CEO and Space Activities Coordinator for Leonardo, Luigi Pasquali, delivering a presentation and being part of an expert panel (Day 1, Session Two – Space Partnerships: Europe - 11:20-12:20 BST)

Telespazio UK Head of Marketing & Sales, Dr Geoff Busswell, being the Conference Committee Chair and leading construction of the programme in consultation with the RAeS Organising Committee.
Speaking in advance of the event, Dr Busswell said: "This conference will provide the opportunity to debate all the elements of what it means for the UK to become a Space Power by 2030. As we emerge from a hugely difficult time for society and business, space will be an important engine for growth to help the economy rebound. We have an exciting opportunity ahead in the UK to forge partnerships right across the globe, and it will be important to utilise space as part of these collaborations to best align to a high impact, multi-year national strategy. Telespazio UK is excited to play its part in that, including across key areas of Defence and Climate Change."
Further details and registration for the 2021 RAeS President's Conference
View the RAeS Insight Blog previewing the conference