Activity supports ESA's flagship Digital Twin Earth Initiative
Telespazio will work in close collaboration with leading UK academics exploiting world-leading capabilities in EO and Climate Data analytics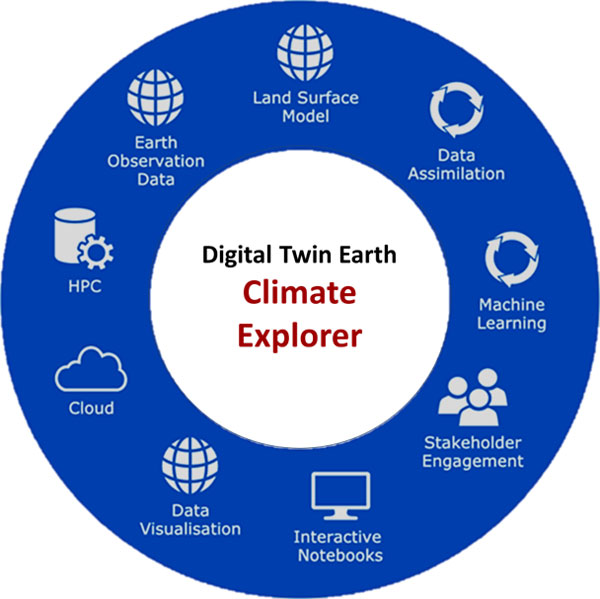 Telespazio UK, a subsidiary of Telespazio – a joint venture between Leonardo (67%) and Thales (33%) – has been awarded a European Space Agency (ESA) contract to develop a Digital Twin Earth Precursor (DTEP) to advance our understanding of local impacts of global climate change.
'Digital Twin Earth' will be a high-resolution dynamic reconstruction of our planet and its complex processes. The output will provide advanced science-based decision support capabilities, including enhanced predictive and simulation capacity, at resolutions and accuracies necessary to respond to the urgent challenges and targets addressed by the EU's Green Deal.
The innovative Climate Explorer proposed by the Telespazio UK team will use advanced Earth System Models, processed using High Performance Computing infrastructure and state-of-the-art data assimilation techniques with satellite Earth Observation (EO) data. Optimised model simulation outputs will be delivered via Machine Learning emulation to the end user through a cloud-based Interactive Data Portal. As an example use case, this will include soil moisture and drought metrics that impact agriculture in Africa.
The DTEP Climate Explorer project will be presented on Tuesday 29 September 2020 at the ESA EO Phi Week by the DTEP science lead, Dr Robert Parker of the University of Leicester, along with the other DTEP activities, followed by an opportunity to meet members of the project team at the e-poster session. The e-poster is available for viewing on ESA's 'EO Open Science' YouTube channel.
The prototype Climate Explorer tool will be developed using an Agile approach, in close collaboration with a diverse stakeholder group. This will ultimately enable decision makers without expert technical knowledge to generate and visualise, in real-time, decision-relevant information relating to regionalised impacts of climate change.
Dr Gordon Campbell, Head of Enterprise - EO Data Applications Division at ESA/ESRIN, and technical officer for the project, said: "The Digital Twin Earth Precursors activities are an important stepping stone in the development of an interactive real-time representation of our Planet. We are pleased to be working with the Telespazio-led consortium and look forward to a fruitful activity which will push the boundaries of EO/Climate Data exploitation for the benefit of the global population."
Dr Geoff Busswell, Head of Sales at Telespazio UK, said: "We are excited to be supporting ESA's flagship Digital Twin Earth initiative. Telespazio will build on our established relationships with leading UK academics, exploiting our complementary capabilities in EO and Climate Data analytics to develop relevant tools that can improve our understanding of climate-related impacts on our daily lives."