AWARE Platform – InSAR Analysis
Telespazio supports critical assets and infrastructures management by conducting satellite InSAR analysis to monitor millimetre displacements through the AWARE platform. This service offers the insurance industry:
Risk Evaluation (New Buildings / Infrastructures) – information on the past and actual status, highlighting deformation trends or other key anomalies
Damage Assessment / Claims Analysis – evaluation of possible causes in cases of buildings / infrastructures collapse and damage
Risk Evaluation (Major Works Impact) – monitoring the effects of new infrastructure works to prevent secondary effects (e.g. cracks after new metro line)
Integrated Information – integration of external services in order to correlate information according to specific needs (e.g. risk exposure layers).
An example visualisation of historical deformation trends in urban areas can be seen below. Measurement points are positioned in three-dimensions (x, y, and z) and with millimetric precision.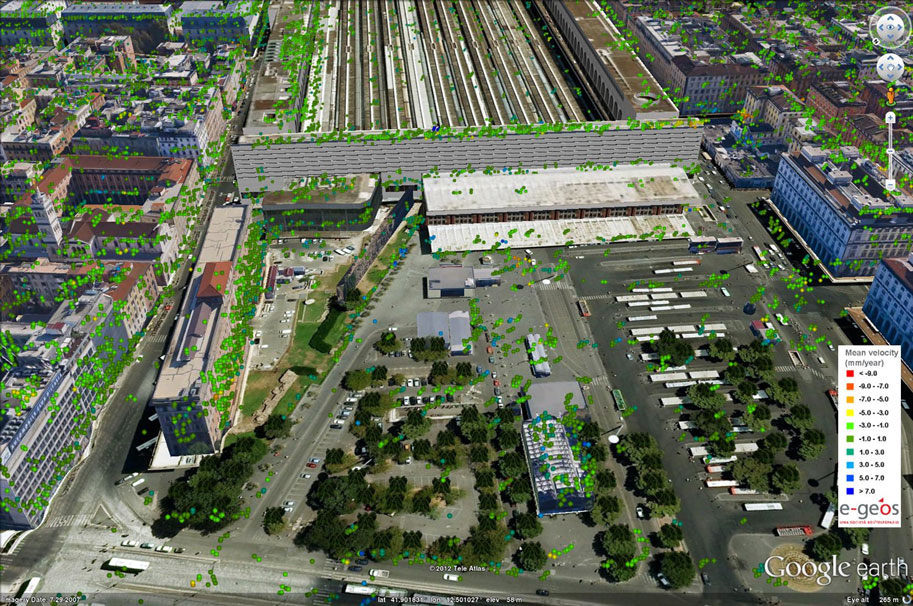 Inherent Defect Insurance (IDI) Support
Inherent defects are caused by deficiencies in design and construction, defective material and workmanship, foundation problems, and unforeseen ground conditions. Telespazio UK provides assessments of ground conditions near construction works, and support for the assessment of building cracks. Satellite-based InSAR measurements can contribute to not only assess the ground conditions immediately around the construction area, but also to detect critical situations (active landslides, subsidence) present in the vicinity of the structure.
Risk Evaluation (New Buildings / Infrastructures) – automatic detection of (pre-existent) deformations and defects to better define the contract premium before the construction phase
Damage Assessment / Claims Analysis – support insurance in premium adjustments and definition of eventual contract coverage limitations.